Stone Canyon's original recorded inhabitants were the Hohokam Indians who lived in the area as early as 500 A.D. and inhabited the area continuously for around 700 years. Even today you can find historic petroglyphs and pottery throughout the property. In more recent times however, the development got its start thanks to a Phoenix area developer, whose affiliated company in fact developed the entire Rancho Vistoso area. This entity, Stone Canyon LLC, and its parent company, Vistoso Partners, saw the exceptional promise that the property held and went about constructing the community and golf course in 1999. The golf course was completed first and play began initially on February 15, 2000. This "soft-opening" was an exciting and somewhat pioneering experience for the original members & staff. Golf cars were set up on the first tee (the temporary clubhouse wasn't yet complete), the roadways leading up to the course were still dirt, and the players warmed up at nearby The Golf Club at Vistoso (the practice range was also being finalized). Even with some of these items unfinished it was clear that the start of something special had begun with Stone Canyon.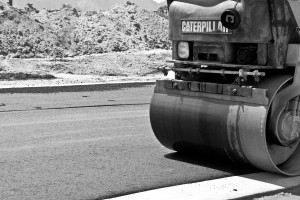 The coming years saw the community development take shape along with the golf course. Infrastructure was completed, roadways were paved, the golf course was tweaked, and homes began construction. Quickly Stone Canyon began to receive accolades, including being ranked in Golf Digest's Top New Private Golf Courses in 2001. On the property side, the initially released lots were in "Phase I" (North & South) which totaled 133 custom lots on the southwestern side of Stone Canyon's 1,400 acres. Most of the Phase I lots feature traditional Tucson desert terrain with very buildable sites and either flat or rolling topography. Following Phase I was Phase II to the north which included lots that possessed more of the rock outcroppings that Stone Canyon is well-known for. Totaling 100 lots, Phase II offered buyers a greater diversity of building sites and saw many original purchasers "upgrade" their lots or purchase a second parcel. With the first two Phases developed, Stone Canyon now had a very diverse selection of property and a solid inventory.
In the years following as the real estate market was heating up and prices increased there was a rising demand for finished product homes. Driven in part by the length of time a new custom home took to be designed, permitted, approved by the Town & Stone Canyon Design Review, and finally construct, a couple of joint ventures were undertaken by the original developer and investors to meet this demand. These communities were Phase III, Tuscan Estates, and part of Phase VI, Stonegate. Both of these communities featured different floor plans which could then be customized with interior finishes and minor design changes to meet the specific buyer's needs.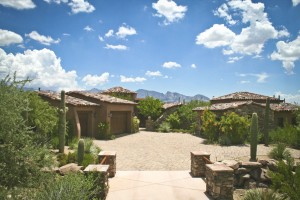 Tuscan Estates was the first of these projects released on the western edge of Stone Canyon with its own unique flavor of desert topography reminiscent of a high desert, scrub bush type of landscape. The homes within Tuscan Estates were all Tuscan themed and ranged in size from about 3,000 square feet to 3,900 square feet with an optional guest casita of over 700 square feet. Stonegate, which followed later in 2005, showcased slightly smaller homes in a similar Tuscan styling of between 2,400 – 3,100 square feet and were located just inside the main entrance. It was following the time of Stonegate's release that another exciting event came to Stone Canyon in the form of the "Street of Dreams" in the Spring of 2007. The Street of Dreams allowed custom homebuilders, interior designers, architects, landscape designers, and similar housing related companies to showcase their abilities through a tour of luxury homes that was open to the public. Drawing tens of thousands of visitors to Stone Canyon over a six-week run it was great exposure for the community and also helped launch the newly constructed main entrance & gatehouse.
More custom lots were also brought on around this timeframe as a small section of lots, Phase IIA, were released in 2006 and a much larger area of 65 custom lots that made up Phase IV on the north side of the development were brought to market by 2007. The development of Phase IV was especially intriguing because these lots offered gorgeous views of the Catalina Mountains, Tortolita Mountains, and the Stone Canyon golf course. Phase IV's topography echoes that of the north side of Phase II with tremendous boulders making up large rock outcroppings, themselves full of towering saguaros, prickly pear cactus, and ocotillo. The landscape is simply breathtaking and truly is so unique that its character speaks for itself.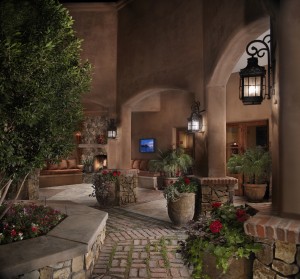 What came next of course was the sharp decline in the real estate market as part of the "Great Recession". Stone Canyon felt the impact of this just like nearly every community across the country. Home prices lost approximately 50% of their value from the peak prices and lot prices were even harder hit. Due to the nature of the owners within Stone Canyon there weren't a lot of foreclosures or short sales although a number of those distressed sales have taken place. Some of the more notable foreclosures or deed in lieu of foreclosures were developer pieces. Not only had the cost of the lots skyrocketed during the boom period, but so had the cost of infrastructure improvements. Some of the more recently developed areas which had been constructed were leveraged with loans. With the subsequent drop in the value of those lots the developer was left with no option than to give these properties back to the banks. Among the areas affected were Tuscan Estates, Phase IV custom lots, Stonegate lots, and 37 of the Phase VIII partially improved lots. Nearly all of the lots in these areas have since been purchased in bulk sales by investors who've taken advantage of the value they see in the land still.
Other folks that took advantage of the declining market were current owners within Stone Canyon. Many property owners, especially those with existing homes, snatched up neighboring properties to protect their views or create additional privacy around their homes. These savvy individuals also realized the decline was an opportunity to expand their holdings and most often create even more appealing homesteads for themselves.
Obviously this is a quick encapsulation of Stone Canyon's history but please feel free to contact Team Woodall for a more in-depth explanation of the history and/or to ask specific questions. Next, take a look at The Present state of Stone Canyon.