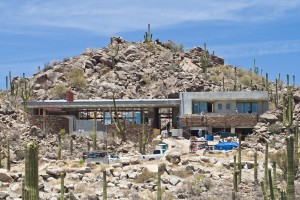 The Stone Canyon Community Association has chosen to adopt Design Guidelines to protect the integrity of the community's appearance as its developed. These Design Guidelines are above and beyond those that exist for the Vistoso Community Association. Prior to the purchase of a lot within Stone Canyon it's important to understand the full scope of the construction process that will be required in order to assess the fees, costs, and restrictions. Below are the General Design Guidelines for the community and you can also view the additional requirements of Tuscan Estates & Stonegate on the website.
Stone Canyon Design Guidelines
Among the preliminary steps that are required to build a home within Stone Canyon that are outlined in the Design Guidelines & its Amendment are the submittal of:
Design Review Fee of $2,150 to the Stone Canyon Community Association
Design Review Fee of $500 to the Vistoso Community Association
Three (3) full-size sets of submittal plans and one (1) electronic set of submittal plans in PDF format
Site Plan of the entire Lot with proposed Building & Construction Envelopes (1″=20′ scale or larger)
Results of Survey of Lot by a registered land surveyor or licensed civil engineer (1″=20′ scale or larger – same as Site Plan)
Roof plans and floor plans showing proposed finished floor configurations (1/4″=1′ scale)
All exterior elevations showing both existing and proposed grade lines, elevation heights, roof pitch, with exterior materials and colors indicated (1/4″=1′ scale)
An 11″ x 17″ exterior colored perspective rendering for elevations of the front and rear and any street-facing elevations
Study Model that includes the entire lot plus 20′ beyond lot lines at a 1/8″=1′ scale or a size appropriate to accurately reflect the proposed improvements.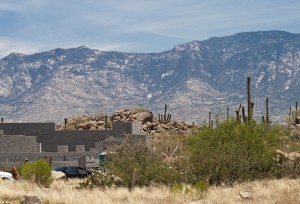 Further steps are required as part of the Final Design Submittal. There are also various pre-construction, during construction, and post-construction requirements and inspections. A builder deposit of $11,000 is also required prior to construction, of which $10,000 is refundable (less any charges against it) pending final post-construction approval. As you can see there is a lengthy process for construction within Stone Canyon that while not strict does require some time to navigate. A motivated buyer/owner can get through the architectural process, design review with Stone Canyon & the Town of Oro Valley, and be ready for construction within approximately six (6) months if they stay actively engaged. The Design Guidelines do not restrict which architect or builder you must use, however choosing contractors that have gone through the process at Stone Canyon is highly recommended. Team Woodall is more than happy to provide a list of names to contact and in fact encourages meeting an architect/builder at the site before a purchase to get their feedback.
The Stone Canyon Community Association may amend these requirements from time to time and any buyer looking to purchase should check with them to verify the latest requirements. The information provided here is as a courtesy and for general informational purposes.